Vancity Rapid Championship for 2022
Come watch the top players in Vancouver from 2022 battle it out to see who will become the first Vancity Rapid champion!
Spectate Now for $10
Make a Prediction
If you purchase a ticket, you're eligible to win 50% of the prediction pot if you predict who will win each round correctly. All ticket purchases will go towards the prediction pot. Only people with spectator tickets, and players will be allowed in the venue.

Details
Date: Feburary 5, 2023 from 10:00 a.m. - 05:00 p.m. PDT
Venue: Life Building, Room 2302 at UBC
6138 Student Union Blvd, Vancouver
All-day paid parking available onsite.
Rounds: 3 rounds Single Elimination format
Each round is two games of 15+10, with alternating colours. Ties are broken by bidding Armageddon Blitz (opens new window)
Quarterfinals at 10:00 a.m.
Semifinals at 12:00 noon
Lunch Break + Casual chess for spectators
Finals at 03:00 p.m.
Time format: 15 min + 10 sec/move increment
Prizes:
1st - $200 + name permanently on the Vancity Knight
2nd - $150
3rd - 8th - $50
Bracket
Predict the winner
Anyone can enter a prediction. Only those who purchased a spectator ticket for $10 will be eligible to win 50% of the prediction pot.
Who will be the first to be immortalized on the Vancity Knight?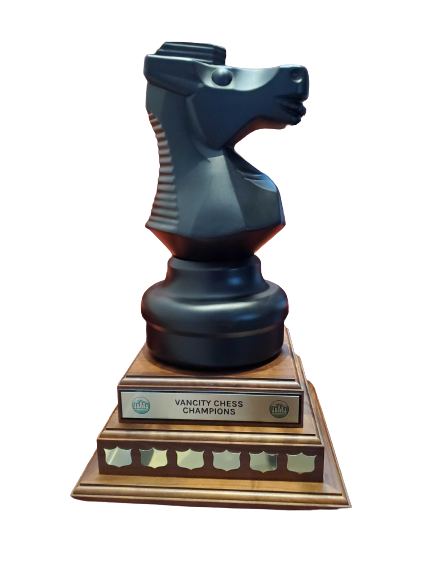 Policies
Refunds
No refunds for spectator tickets
Byes
No byes may be requested for this championship
Playing Area
No food in the playing area
Silence is required in the playing area while games are in progress
All electronics capable of making noise, communicating, or playing chess must be powered fully off while playing
Photo & Video
Vancity Chess may film certain games throughout the event. We always ask players involved for their permission.
Photos by spectators are allowed for the first 5 minutes of each round, but please be discrete and respectful to not disturb players